ALFA ROMEO GIULIA
A timeless beauty at the service of your emotions.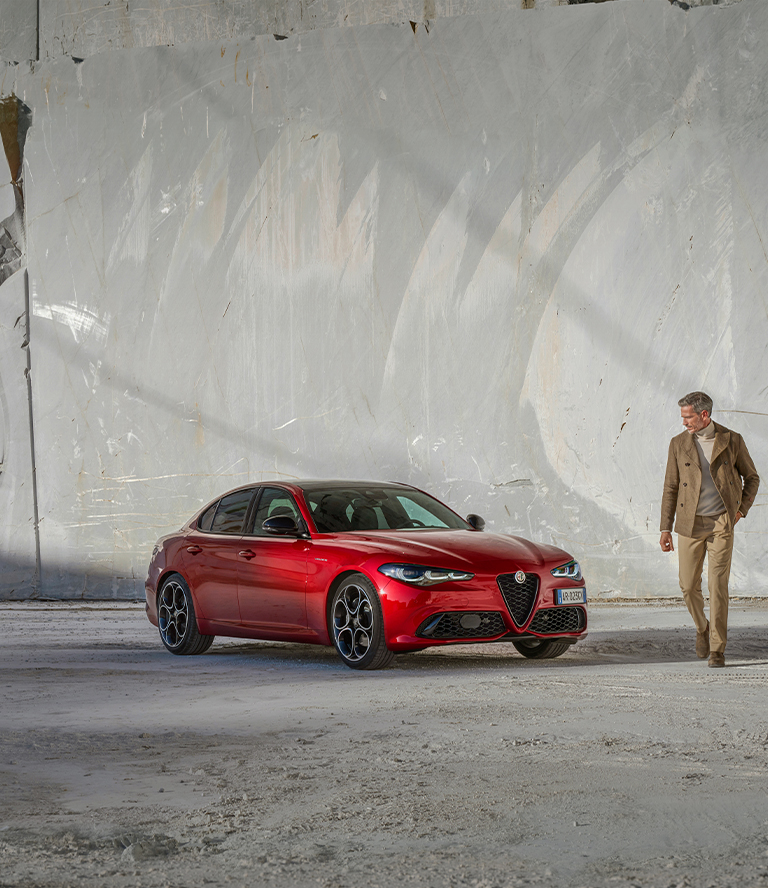 DISTINGUISHING FEATURES
Italian design in pure
Alfa Romeo style
Advanced Driver
Assistance Systems
Level 2 Autonomous Driving
50/50 weight
distribution
Perfect balance, for
uncompromising driving dynamics
Improved steering feel,
maximum comfort
Exterior
BEAUTY IN MOTION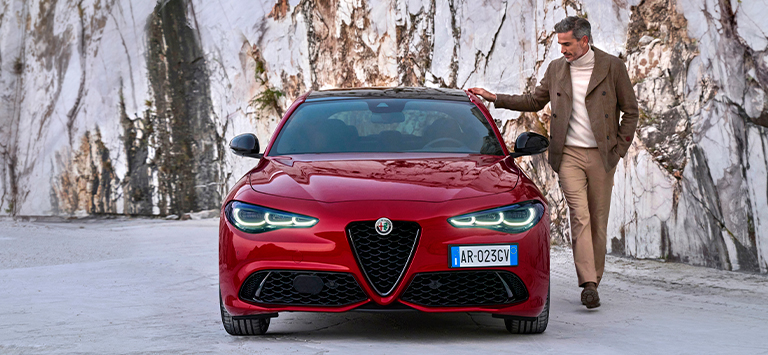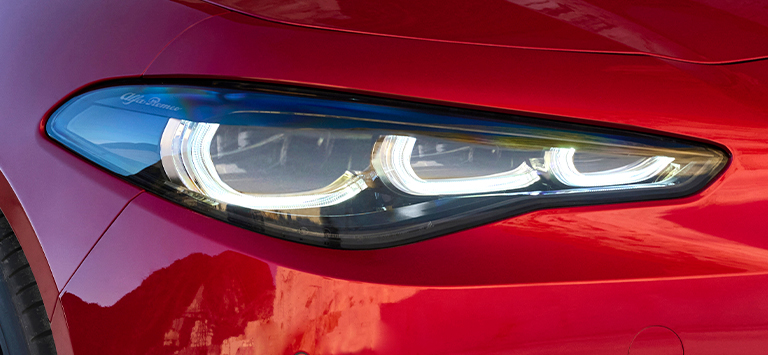 The Full-LED Adaptive Matrix headlights provide optimal illumination.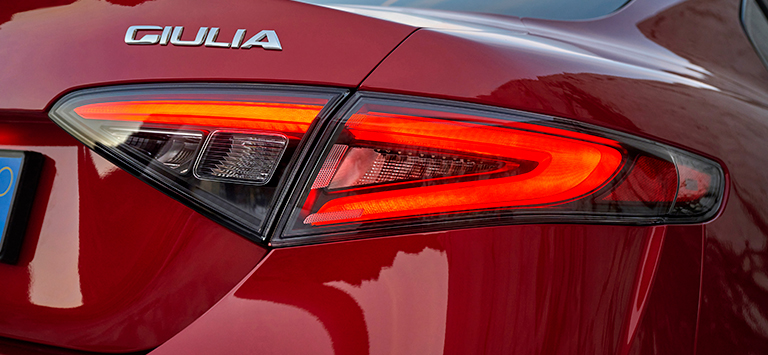 Rear lights with an unmistakable LED signature.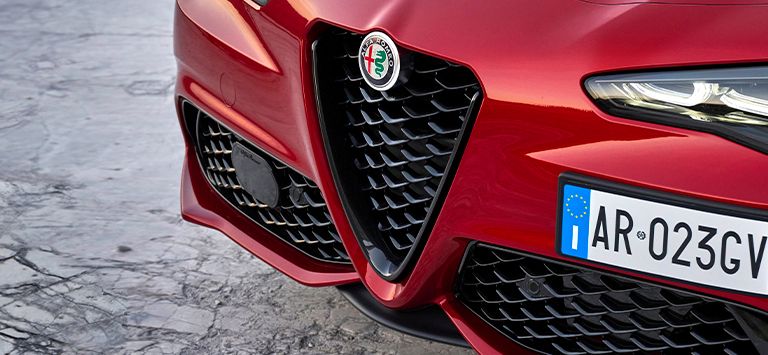 The distinctive "Scudetto" V-shield highlights Giulia's sporty look.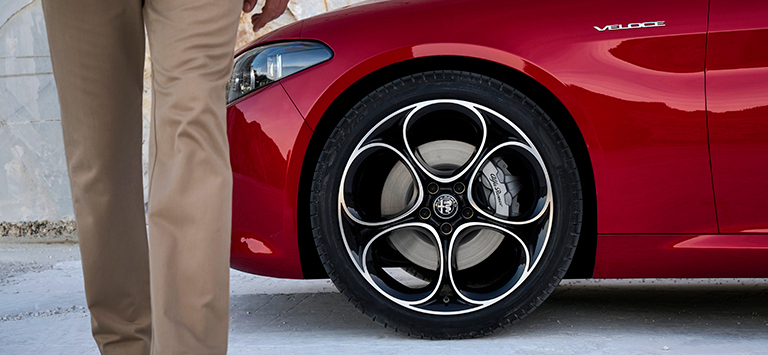 Giulia Veloce 19" Alloy Wheels.
Interior
UNIQUE EMOTIONS IN EVERY DETAIL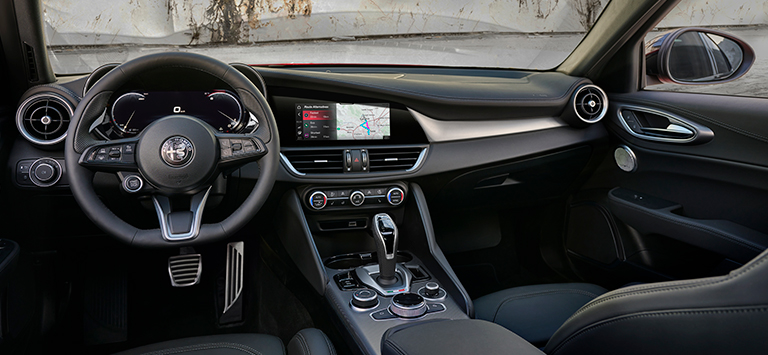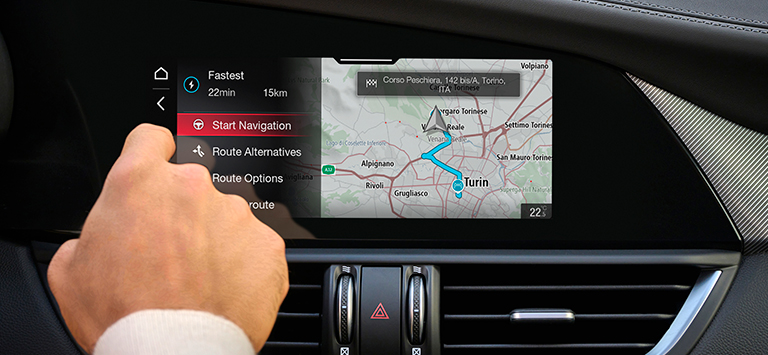 8.8" Multi-Touch display with interactive widgets.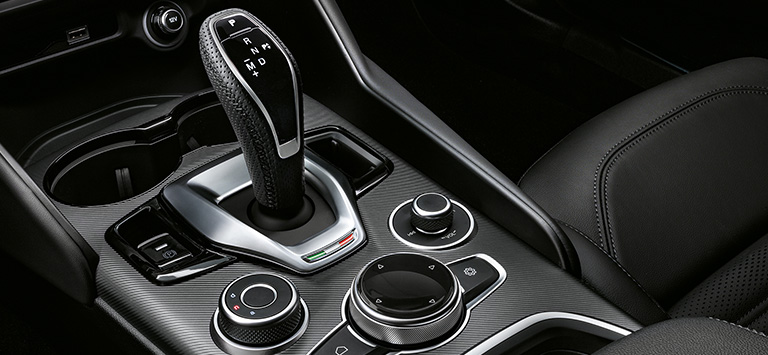 Centre console: useful compartments and premium finishes.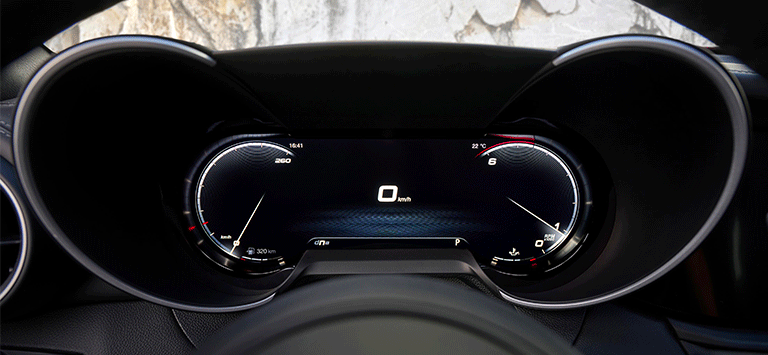 12.3" "Cannocchiale" cluster with three layouts: Evolved, Relax and Heritage. The Evolved layout is modern and essential, the Relax layout focuses
on comfort, and the Heritage layout is inspired by the Brand's iconic models.

DISCLAIMER
The pictures are indicative and have illustrative purpose only. Colors and details shown could be not available or could vary, when the vehicle will be available, by way of example for technical and/or production and/or commercial reasons. Some pictures could show accessories and/or equipment which are not standard and that, when the vehicle will be available, will be subject to a specific request and additional payment.
Technology
A COMBINATION OF MECHANICS
AND EMOTIONS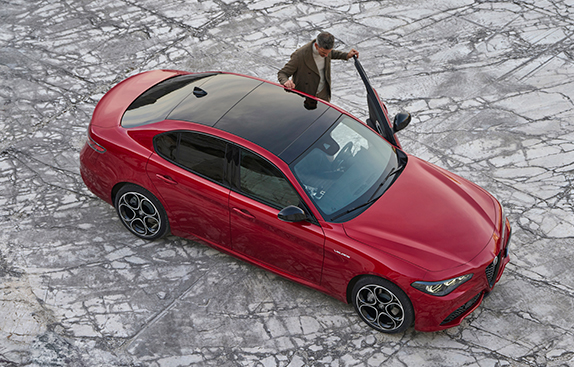 The Alfa Romeo Giulia brings together design, power, and innovation,
all thanks to patented technologies and the use of lightweight materials
to deliver unique driving excitement. The Q2 system
and the IBS brake-by-wiresystem offer responsive driving.
Technology
A SYMPHONY OF
MECHANICS AND EMOTIONS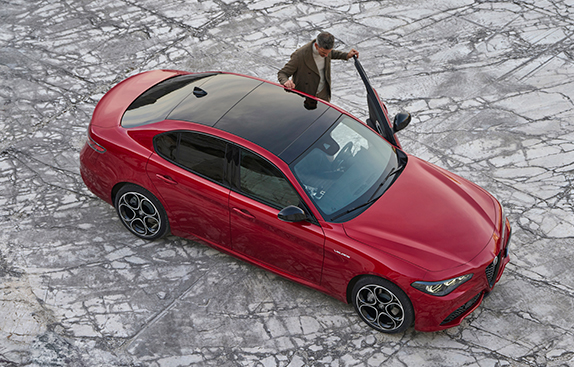 Alfa Romeo Giulia brings together design, power and innovation, all thanks to patented technologies and the use of lightweight materials to deliver unique driving excitement. The Q2 system and the IBS brake-by-wire system are all processed real-time through the Chassis Domain Control.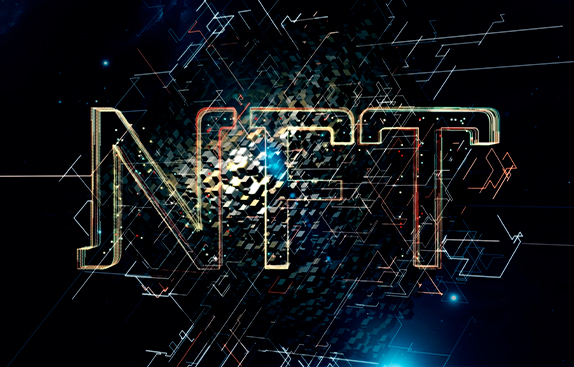 AN NFT DIGITAL CERTIFICATE
FOR A GREATER VALUE
Thanks to its next-generation software architecture,
for the first time ever the Alfa Romeo Giulia adopts
the Alfa Romeo Use Certificate NFT. Based on Blockchain
technology, the NFT can register vehicle data to generate
a unique and non-falsifiable record of the vehicle's life.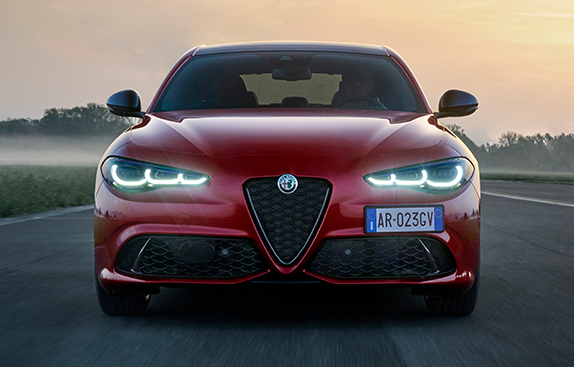 Advanced Driving System
BEAUTY DRIVEN BY TECHNOLOGY
The Alfa Romeo Giulia has mastered the art of finding the balance
of hands on driving passion and cutting-edge automated driving systems
by achieving Level 2 of autonomous driving. Giulia is equipped with systems
that intelligently monitor the vehicle's surroundings
in order to ensure control and exceptional driving pleasure.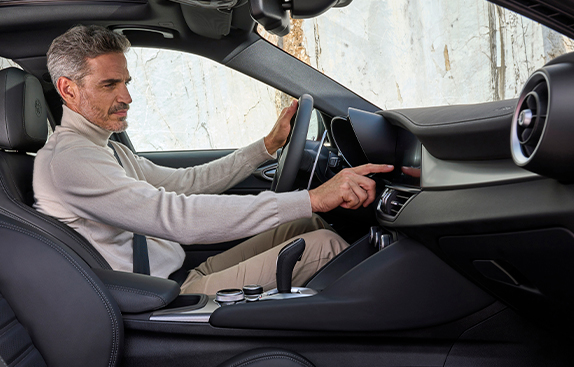 Infotainment
IMMERSIVE TECHNOLOGY
FOR ALL YOUR JOURNEYS
A few intuitive gestures will provide a smooth experience
when driving an Alfa Romeo Giulia.
Alfa Connect Services
CONNECTIVITY AT ITS BEST
Connected with the world and with your car. Alfa Connect Services create and assure great connectivity.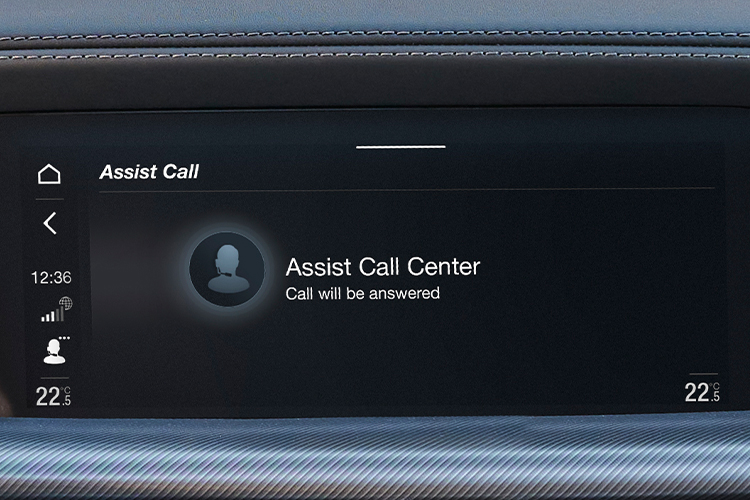 MY ASSISTANT
In any emergency, My Assistant allows you to contact our dedicated call centres that will do everything they can to solve the issue as quickly as possible.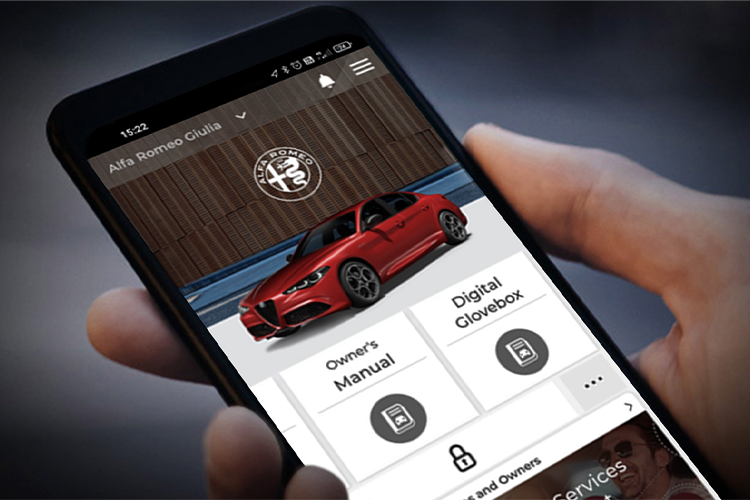 MY REMOTE
Using My Remote, you can interact with your Alfa Romeo Giulia anytime, wherever you are: you can lock and unlock the doors, turn on and off the lights, and carry out many other actions. All directly from your smartphone or smartwatch.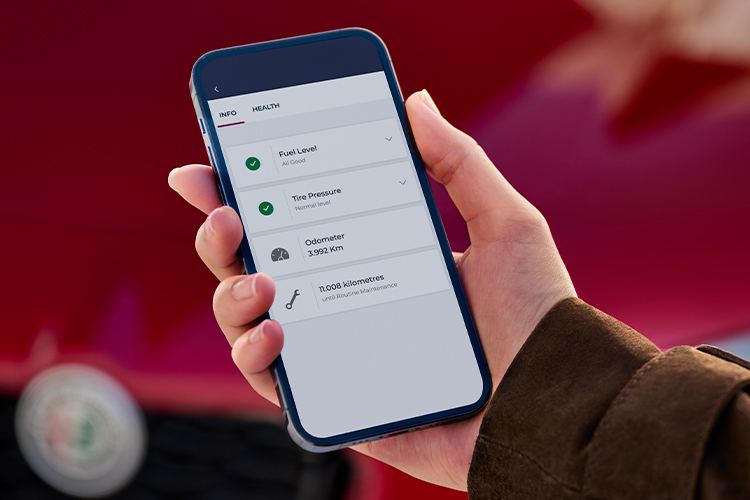 MY CAR
With My Car, you can constantly keep your Alfa Romeo Giulia general health and status under control, directly from your smartphone or computer, even when you're not behind the wheel.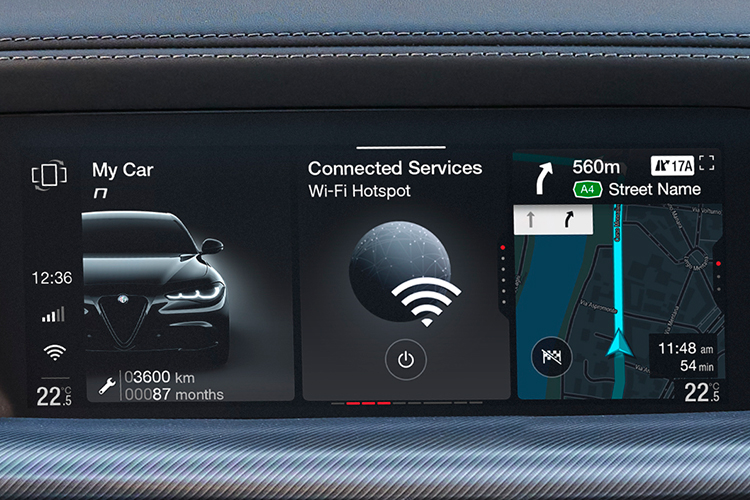 MY WI-FI*
With My Wi-Fi, you can share a wireless internet connection with all the passengers on your Alfa Romeo Giulia.

*My Wi-Fi is an optional service.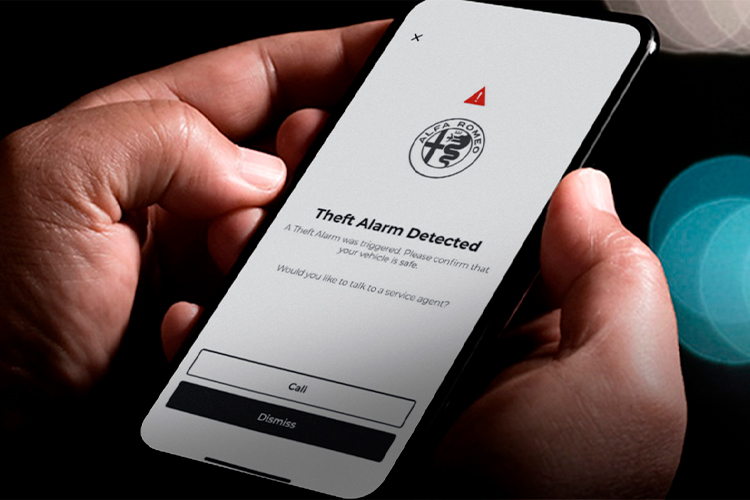 MY ALERT*
Protect your Giulia with My Alert, a service that notifies your app of any suspicious event, like attempted theft, or unauthorised towing.

*My Alert is an optional service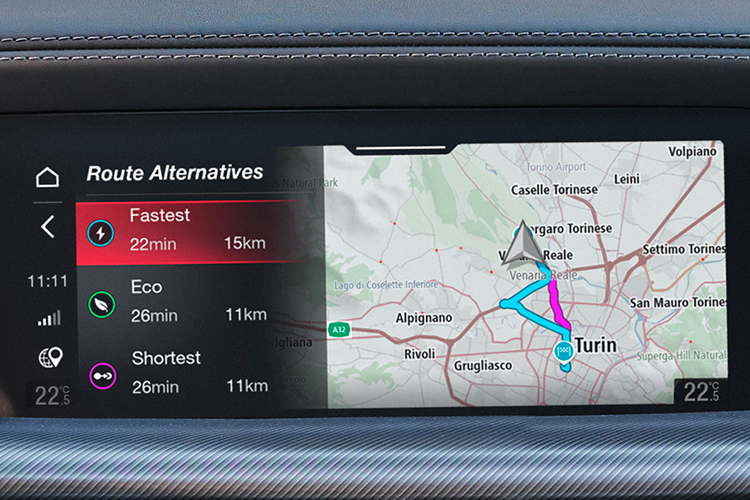 MY NAVIGATION
With My Navigation, your driving experience is even more complete: real-time updates on traffic, weather, and road conditions. You can also look up destinations and places of interest on your smartphone and send them to your onboard navigator.
In addition, thanks to the My Alfa Connect mobile app, you can access partner offers and insurance benefits linked to your vehicle's telematic data.​
For more information click here.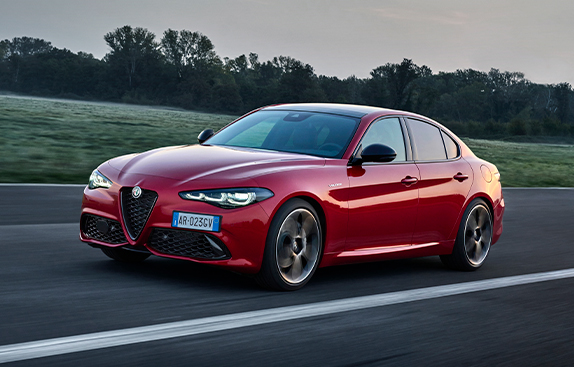 Performance
MASTER THE ROAD WITH DRIVING PLEASURE
Efficient, high-performance engines. A chassis designed to work with the rear traction, innovative suspension systems and a weight/power ratio that is second to none.
Disclaimer
Fuel consumption Alfa Romeo Giulia Range (l/100 km): 8,1 – 5,0; CO₂ emission (g/km): 183 – 130.
Type approval values determined on the basis of the WLTP combined cycle, homologated as of 02.12.2022. The values indicated are for comparative purposes
Disclaimer
Images meant for display purpose only, please confirm the product details and availability with the local dealer.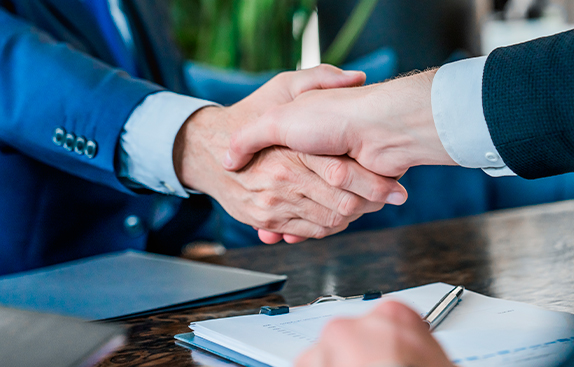 Financial Services
Purchase solutions
Find out more about our financial services for the purchase of your Alfa Romeo, get a Quote now.​

Schedule a test drive and try the
unique experience of driving an Alfa
Romeo.
Get all the information you need about Alfa Romeo Giulia.